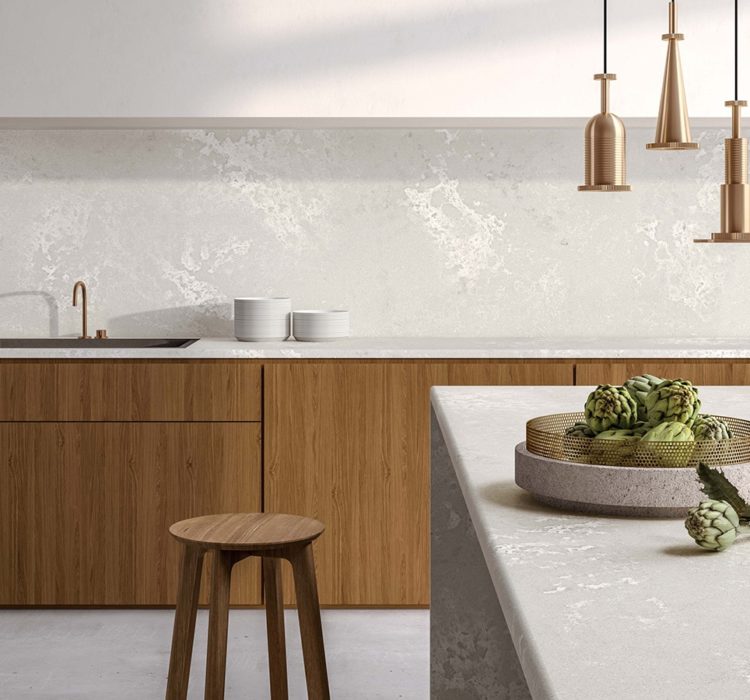 Maintenance Free No sealing, polishing or reconditioning is needed. Simply wash with warm soapy water. It's that simple. Plus, Quartz Stone surfaces resist stains from fruit juices, food colouring, coffee, tea, grape juice and nail polish.
Food Safe   Engineered stone has been certified by NSF International for use as a food preparation surface. Quartz Stone is totally non-porous, making cleanup easy and preventing food and moisture from penetrating its surface — the main source of growth for harmful bacteria.
All Natural   Quartz surfaces are created from pure natural quartz, an extremely hard stone crystal mined directly from the earth. In fact, quartz is the hardest non-precious stone that can be found in the earth's surface.
Everlasting Value   With its beauty and performance advantages over granite, an engineered kitchen countertop or bathroom vanity will add value to your home.
Sunlight Exposure Continuous long-term exposure to direct sunlight (UV rays) may result in slight discoloration of Quartz Stone countertops.
Cautions
Do not place hot pans directly from the hob or oven on to your quartz surface. Although quartz is heat resistant sudden changes in temperature can damage the surface. Always place hot pans & even dishes on a trivet.
Do not stand or kneel on any part of the work surface. Weight or pressure applied especially to vulnerable areas such as around sinks and hobs where the stone is quite narrow can cause breakage.
Products containing oils or powders may leave a residue, therefore please wipe away any spills immediately. If required you can clean with warm soapy water afterwards.
Repetitive use of abrasive scrub/cleaners may dull Quartz Stone's finish.
Use of oven/grill cleaner may discolour Quartz Stone and should be avoided.
Do not chop directly on the work surface as some modern knives contain diamond which will scratch quartz surfaces.