Sintered stone is a relatively new kind of ultracompact material with unique technical features and pleasing to the senses finishes. It's made of 100% natural minerals and oxides which grant the product hardness, strength and chemical stability.
The production process of this new surface material is known as sinterization, hence the name sintered stone. During sinterization powdered natural minerals and oxides are exposed to extreme pressure and heat to form a solid mass of material with uniform density and close to nil porosity.
SINTERED STONE BRANDS & MANUFACTURERS
SINTERED STONE - CARE & MAINTENANCE
Sintered stone products are ultra compacted and non-porous, thus requiring no special treatment such as sealing, polishing or any other form of maintenance, except a simple wipe with a clean damp cloth soaked in regular detergent and water. The use of strong chemicals can be easily avoided if the sintered stone surface is regularly cleaned and kept dry.
Sintered stone products are available in different finishes, extra care must be taken when cleaning and handling polished (glazed) surfaces. To avoid scratching the work surface, only use cloths made of soft fibres, suitable for cleaning of glass, kitchen appliance and nonstick frying pans.
Acidic foods and beverages will not etch and dull sintered stone worktops. Fruit juices, tea, coffee, red wine, spice pastes, oils, everyday household cleaning products, cosmetics will not be absorbed by this ultra compact material, however, avoid leaving any substances to dry on its surface.
Most marks and domestic stains can easily removed with Cif Cream, however avoid the use of abrasive products on polished surfaces.
Hot saucepans, casseroles and coffee makers will not scorch the work surface, however, for your own safety, please always place hot kitchenware on a trivet.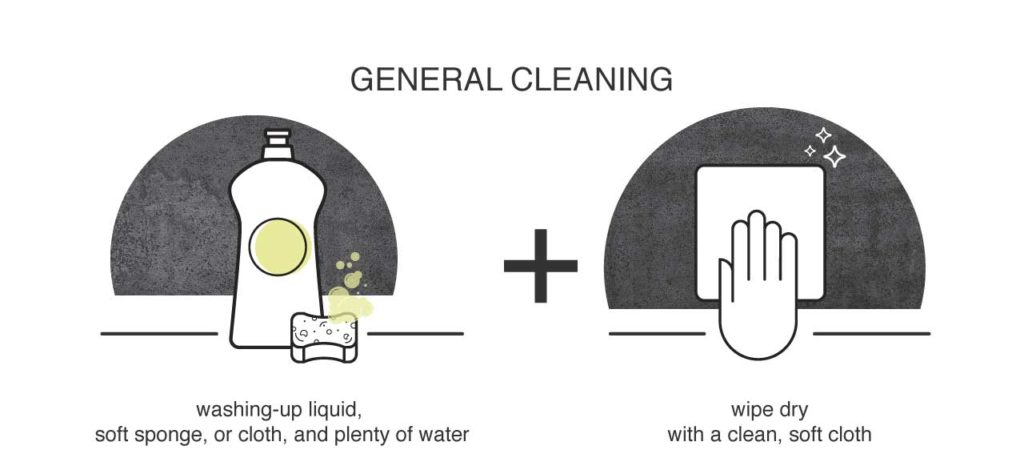 Limescale – use an acid-based detergent, such as Viakal. Rinse surface with plenty of water and wipe dry with a clean microfibre cloth
Greasy and Oily Substances – mild or degreasing detergent, such as Cif Power & Shine Kitchen Spray. Rinse surface with plenty of water and wipe dry with a clean microfibre cloth
Ink/Permanent Marker/Nail Varnish/Expanding Foam – thinner-based detergents, acetone. Rinse surface with plenty of water and wipe dry with a clean microfibre cloth
Although sintered stone is wear and chemical resistant, it is advised to perform a preliminary test on a less-visible area  to verify that the selected cleaning method and product will not cause any damage to the surface.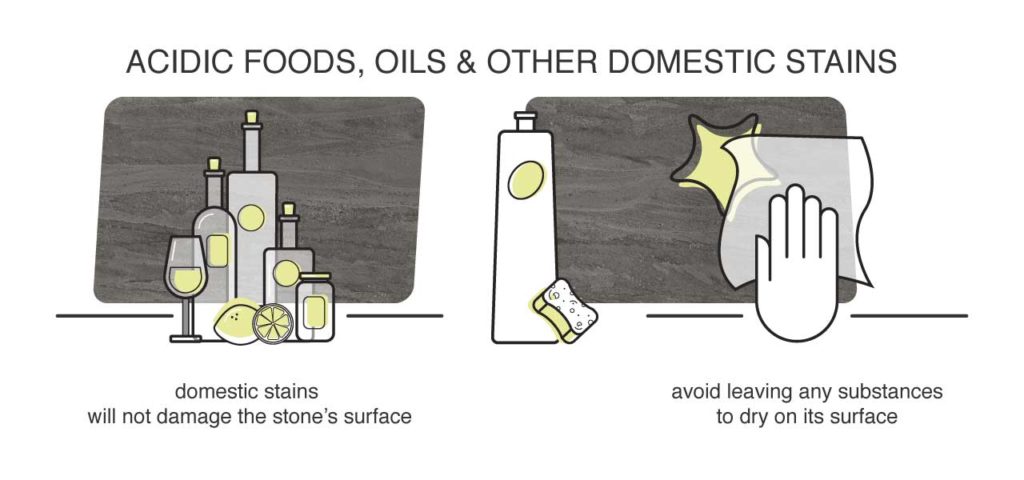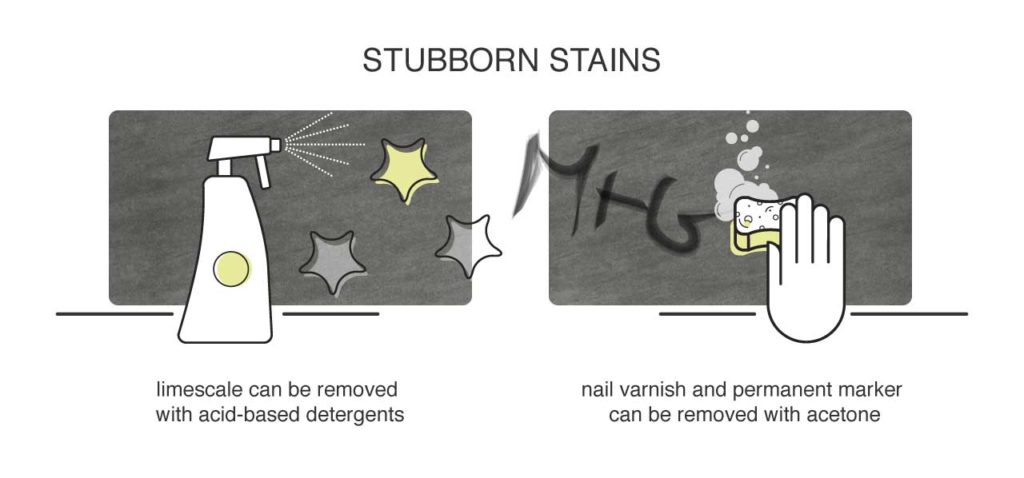 • Do not use steel wool, putty knife or any other sharp, metal object to clean sintered stone surfaces
• Do not pull or drag kitchenware, pans and appliances on the countertop
• Do not chop directly on the work surface as some modern knives contain diamond particles which will scratch your stunning countertop
• Oily soaps, film-forming products (waxes, oil- and water-repellents) must be kept away from sintered stone surfaces. Cleaning products containing such agents will leave a residue on the stone and dull its surface
• Do not stand or kneel on any part of the work surface. Weight or pressure applied especially to vulnerable areas such as around sinks and hobs where the stone is quite narrow can cause breakage
• Do not overload, or store heavy objects on the work surface
• Under no circumstances use hydrofluoric acid, caustic soda, or products with a pH greater than 11, to clean your sintered stone worktop
• Do not let blunt objects to fall on the work surfaces, these can create cracks that will be difficult or impossible to repair
• After installation sintered stone worktops, vanities, fireplaces and any other stone work must be covered and protected at all time while other trades are still carrying out works on site
• Sintered stone products must be kept away from naked flame