KITCHEN WORKTOPS & COUNTERTOPS
At Mable & Granite, we fully understand that selecting the right stone material is fundamental to any home renovation project. It is also a long-term investment which is why when we recommend stone materials for kitchen worktops we consider factors such as quality, performance and appearance. Ordering kitchen worktops from Marble & Granite Ltd is a collaborative process. We encourage our clients to explore various stone materials in different colours and finishes before deciding on the final product. Our quoting and templating process is fully transparent and we inform our clients in advance about the fitting of their worktops.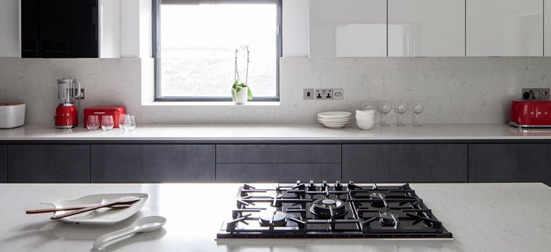 QUOTING & ORDERING
In order to obtain an accurate quote for your worktops please provide us with plans of your kitchen. These plans can be emailed to us and we shall have a price back to you within the hour. Alternatively, you can use our online quoting form filled out with your contact details and the full specification of your kitchen worktop. If you simply wish to discuss your requirements.
Please call us on 01992 535 038 Monday to Friday between 8AM and 5PM or between 10AM and 4PM on Saturdays.
Once the order has been placed we will provide you with the final quote after your kitchen has been templated. This should not be different from our initial quote provided the measurements or requirements have not changed. We will only commence production once you have agreed the final price and paid a 50% deposit. Following templating we ask for the balance payment prior to fitting. We ask for a deposit because each order is bespoke and once manufactured the kitchen worktops cannot be used for anyone else.
THINGS TO THINK ABOUT
EDGE PROFILES
There are several types of vanity and worktop edge designs you can choose from to compliment your bathroom's or kitchen's design. Small details, such as the edge profile of a countertop make a lot of difference. New York, Ogee and Dupont worktop edge details give a sophisticated look to your kitchen worktop or bathroom vanity top. Perfect choice for traditional interiors and furniture. Pencil Round and Mitred are popular choices for contemporary kitchen worktops. Those trying to avoid harsh edges go with Bullnose or Half Bullnose. The soft curves of these worktop edge profiles are pleasing to the eye and break the sharp lines of modular kitchens
SINKS & TAPS
Sinks and taps let you bring your personality into your kitchen décor and make a bold statement. Both available in various beautiful shapes made from durable materials with easy to maintain finishes. Taps are usually deck- or wall-mounted. Deck-mounted taps sit on the countertop and require drilling of holes in the work surface. These type of taps are easier to install, repair and replace than their wall-mounted counterparts.
The design of the sink determines its installation; it can be undermount, topmount (or inset) and flush inset. Undermount sinks are attached to the underside of the worktops. With its edgeless finish it integrates well into the kitchen environment and it is also very easy to clean. Topmount sinks are placed into a precut hole in the worktop and usually come with drainer, hence, no need for drainer grooves. Flush inset sinks are an updated version of conventional topmount sinks. The lip of the sink sits flush with the work surface, which prevents the build up of dirt between the sink's rim and its surrounding worktop. Their main advantage is the seamless installation, hygiene and aesthetic.
Didn't have the chance to look into sinks and taps? At Marble & Granite we supply a range of sinks and taps to suit your needs. Explore elegant, sleek sinks and taps from Franke, Blanco, The1810 Co and contact us for pricing.
DRAINER GROOVES
Drainer grooves can be a nice addition to any worktop. If you require drainer grooves, please advise whether you would like these to be on the left hand side of the sink or right hand side.
DRAINER GROOVES
Hobs can be installed two ways: inset or flush fit. Please state when requesting the complimentary quote or before finalising the order.
UPSTANDS, FULL HEIGHT SPLASHBACKS
Our upstands are normally manufactured in 20 mm material and are 110mm high. However, if you require full height splashbacks or upstands in 30mm please let us know before finalising the order.